Don't Let Your Tires get Overtired, Allow Lodi Toyota to Help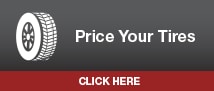 After a long day of work where you're constantly on your feet all day, it's only natural that you'll want to go home, elevate your feet and give them some pampering. The same goes for your vehicle. After driving long hours on the road, supporting a heavy frame and traversing various types of terrain, your car's tires will need to be looked after. Whether you're driving a new or used Toyota model, chances are its tires will get a little tired from time to time.
This is where our Toyota Tire Center comes in handy. Swing by our convenient Lodi, CA location, and our tire specialists would be happy to take a look to determine if your vehicle is in need of a pedicure. They are experts when it comes to examining tire wear. You don't want to risk embarking on your next adventure in a vehicle with worn out or under-inflated tires, so a simple visit to our tire center will give you the peace of mind you need.