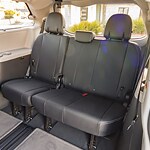 The Toyota Sienna is a popular minivan that offers a number of comfort and convenience features. From the front row to the third row, the Sienna is designed to keep everyone comfortable. Here is what the Sienna offers.
To ensure that everyone in the second and the third row are entertained, the Sienna offers the Dual-View Blue-Ray entertainment center. The 16.4-inch screen allows two simultaneous playbacks of video. That means there are two great choices for passengers to watch on the next road trip. Why struggle to get into and out of a minivan. The Sienna offers a unique dual sliding door system. You can open and close these doors using the remote keyfobs, the switches on the center console or simply pull the door handles. The Sienna makes it easy.
Discover why the Sienna continues to be a top-selling minivan. Visit Lodi Toyota to take a test drive of a brand new Sienna. We look forward to seeing you.