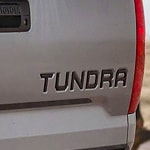 Our Lodi Toyota team members love a great many things about Toyota Tundra: its impressive power and handling, its fuel efficiency and its in-cabin amenities. Those amenities include an array of new, advanced technology features that turn this already popular full-size pickup into a textbook example of brains and brawn.
Now your smart device can become one with Tundra's infotainment platform. Tundra supports Android Auto and Apple CarPlay, letting you access everything that your device offers from the convenience of the driver's seat. Get directions in Lodi, CA, send/receive messages, make calls or rock your favorite playlists. Forget bulky aftermarket GPS hardware mounted on your dash. Tundra's Integrated Navigation is a bright, 8-inch, high-res touchscreen situated in-dash. With bold, crisp graphics and up-to-date satellite info, Integrated Navigation helps you tackle new twists and turns on the road with confidence.
Stop by our dealership today for fun, informative Toyota Tundra test drive. We look forward to chatting with you.