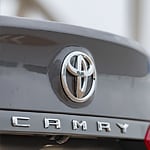 The mid-size sedans have long been popular since the vehicle's initial introduction. Their smaller size makes the Camry easy to handle and fun to drive. Toyota provides powertrain options in order for new owners to choose the level of power and performance they prefer.
The sedans come standard with a four-cylinder 2.5-Liter engine that achieves up to 206 horsepower. But, if desiring more horses under the hood, choose a model having a six-cylinder 3.5-Liter engine to get up to 301 horsepower. All vehicles come with an eight-speed automatic transmission that shifts smoothly.
The Camry models all feature all-wheel-drive, which gives drivers more traction regardless of road or weather conditions. The system is designed to continuously monitor traction in all wheels and increase the torque needed when inclement weather causes hazardous road conditions. See the impressive new models of the Camry at Lodi Toyota. Take a sedan for a test drive.